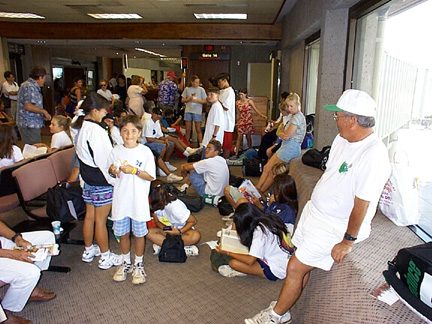 Ian waiting for a flight to a junior tennis tournament at the Kahalui Airport. Behind him are numerous others from Maui heading over for the tournament.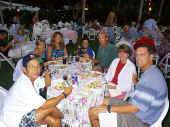 Pictured here at the Orchid Mauna Lani tournament is (counterclockwise from 6) Mike and Shannon Heisler, Jamey Wilson, Ian Cooke, Kim Carpenter, Pam Cooke, and unknown other.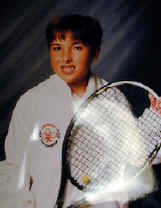 Ian gets his picture taken for the 1999 Aloha Airlines tournament. The top eight point getters for the year play each other for bragging rights. Ian played well and earned respect from on-lookers and other players for his good sportsmanship and playing ability.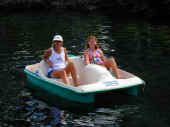 Pam and Aryn relax paddling around the inlet at the Hilton Waikoloa on the Big Island while Ian trains at the Area Training Center.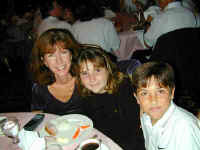 At the final tennis event of 1999 - the Aloha Airline Invitational. Here at the dinner at Kea Lani Hotel Ballroom, Ian is pictured with friend Casey Venus and mother Debbie