Opening day of the Australian Open 2001 was something besides usual. The first round matches on Rod Laver Arena began at 10:45 in the morning and lasted till 11:40 that evening. Each match first round match on Centre Court pushed the seeds to top form early on. The opening match saw Marat Safin play Galo Blanco. A slugfest of serves, returns and baseline rockets left Safin the winner in four sets 6-4, 1-6,6-4,7-6,(7-5) three hours later.

Next on the card was a match-up of Jennifer Capriati versus Henrietta Nagyova. Both played brilliantly. There was no loser on the court and the match went the limit with Capriati pulling out the win in the third set 4-6, 6-2, 7-5. There could not have been more than four points separating the winner from the loser. From the looks of Capriati, and the way she fought through the points, you would have to pick her as the wild card favorite to possibly go all the way in this Australian Open.

Next up were the two Australians, Patrick Rafter and Scott Draper. Patrick started slow and managed to win 6-3, 6-2, 7-5. Pat will have to really start playing better his next matches to stay in.

The talk of the Open was the terrible outfit Venus wore on court on her opening day match and the "attitude" and antics of child-boy-man Lleyton Hewitt during his match against Jonas Bjorkman. The fist pumping, in your face, arguing about line calls, ... and general rude sportsmanship overshadowed his good play. While Venus reminded all women to think about keeping their tops on while playing an active sport. She adjusted the top back into place between each point. She also swore she did not design the outfit, but others do not agree. Venus is winning but looks in poor shape and is not hitting the ball cleanly. Sister Serena is playing much better than Venus. Venus and Davenport are both struggling with their matches. If Davenport doesn't serve well she may lose early on since her footwork is slow and poor.

Gustavo Kuerten had one of those matches he and his fans will be talking about for years when he met Greg Rusedski in the second round. For Guga, who has not made it passed the second round at any Australian Open tournament, Rusedski's big serve (with an amazing first serve percentage of 79%) and volley play (95 at net points won during the match) of had Guga confounded. Kurten was forced to revert to his more familiar style of game, anchoring himself to the baseline. After a number of questionable calls to both Guga and Rusedski, and a match point opportunity for Guga, Rusedski prevailed in a five set 4-6, 6-3, 2-6, 9-7 thriller.

Friday's line-up on Centre Court saw Lindsay Davenport playing Farina Elia of Italy. Pete Sampras was on second playing Ignacio Chela of Argentina followed by Andre Agassi playing David Prinosil of Germany. Davenport, Sampras and Agassi all won though none - maybe with the exception of Agassi won convincingly. Sampras was pushed to five sets while Agassi met a hot Prinosil who fought to an 11-13 loss to Agassi for the first set then went behind 5-0 in the second before he could not continue due to heat exhaustion. The temperature at Centre Court was over 124 degrees. The winds were warm but Agassi was hotter.

Yevgeny Kafelikov claimed he could play at 80% and still win this tournament and, supposedly speaking for the players, felt the prize money at Grand Slam tournaments was ridiculous. "Golfers get so much more money". Andre's advice to Yevgeny was to take his money and "go buy some perspective".

So far all the top seeds have held at the Open with the exception of Kuerten. Rafter is playing inspired after his first round slow start. Pat says his grinding hard training with Tony Roche in Spain playing on clay courts is paying off. He is hitting more balls and staying in points for longer times. This year could see Rafter retire. He'd like at least one more good showing.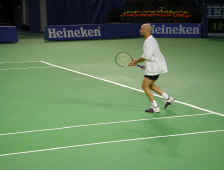 Rafter vs Agassi Semi-Final on Thursday night was a come out party for the Australians. Rafter is the first player to make it to the semis of the OZ Open since Pat Cash did it. After three sets Rafter had Agassi down two sets to one. The crowd around me asked if I was nervous. I reminded them that the Grand Slams are not sprints but marathons. Sure enough Rafter began to cramp, a problem he has had many times and recently in Davis Cup. The next two sets were won by Agassi with ease.
Meet Li'l Lleyton's imaginary friend, Mr Forehand - story from The Age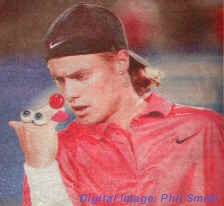 Just when you thought you knew everything there was to know about Lleyton Hewitt, JrTennis has the exclusive story behind his on-court shenanigans. The crucial antic to remember here is the "bent hand to the forehead" pose, thought by some to be adapted from the Swedish players in the 1980's. Yet other speculated it might be his version of Rodin's The Thinker, or an attempt at shadow puppetry. Now Jr Tennis can reveal that when Li'l Lleyton assumes the pose he is actually turning for advice from his invisible childhood friend Mr Forehand. This explains several Hewitt traits:
* Apparently Li'l Lleyton's pet nickname for Mr Forehand is "Balboa", hence the constant cries of "C'mon Balboa".
* Mr Forehand is said to be a neatness freak, which explains why Hewitt's neck is at such an awkward angle as he physically struggles to prevent his little friend from straightening the racquet strings after every point.
* It was said to be love at first sight when Mr Forehand walked into an Antwerp bar and spotted Kim Clijsters (or "Mrs Palmer and her five sisters" as rhyming slang would have it).
*During the Davis Cup final, Mr Forehand is said to have grown a splendid moustache above the second knuckle.
*Now you know the source of Hewitt's "little voice in his head" that occasionally prompts him to question line calls.