Back to Home Travel Page To Olympic Park White City Tennis Club Sydney Bridge Looking around Sydney Melbourne Australian Open
We spent seven days in Sydney before heading down to Melbourne for the Australian Open. Check out some of Melbourne and the Yarra River, boating, and Australia Day festivities on the lower portion of this page. After the Open we head to Ayers Rock, in the heart of Australia, before heading back to Sydney for a few days before heading back home to Maui, Hawaii.
To see full size photo click on the picture.
We take a 9:05pm flight Tuesday( the last flight off Maui) to Honolulu. The Qantas flight arrived late so we wait to board QF04 till1:20am on Jan. 5, 2000. Get into Sydney at 8:30am Thursday the 6th. As we get off the plane we see we are traveling with Andre Agassi and Steffi Graf. Ian, of course, walks up and said "Hi - Andre and Steffi". I guess they were both over in Honolulu. I think they were heading to Melbourne as they seemed to be lost when they reached customs. Steffi takes over and gets directions to the international transfer flights leaving for Melbourne. I didn't know Steffi was plays the new Wilson Pro Staff( or should they re-name them Pro Graf) racquets, as she was carrying a large Wilson tennis bag. Pam gives me a hard time for not getting their photo, but it did look as though they wanted to be alone together.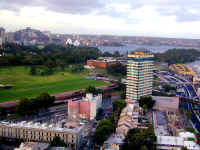 Sydney Harbor with the Opera House and bridge from our room.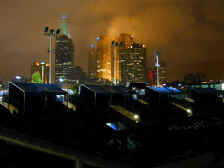 Melbourne at night from show court 1.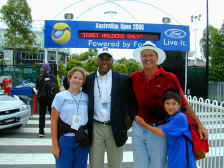 The Open is a good to meet new people and see old friends. Here we are with Mal Washington who now works for ESPN. Australia Day is January 26th. Somewhat similar to our July 4th, Australia Day is a day set aside to take pride in Australia. We wandered down to the Yarra River for fun in the park along with thousands of other Australians. Australians love the water and love to row their sculls down and up the Yarra River. Weekends are filled with races similar to the canoe races in Hawaii.
Ian in lock up during Australia Day ( Ian acting as a convict sent to Australia) and listening to a Didgeridoo player in the park. Demonstrations of sheep herding also were present along with wood chopping and whip cracking demonstrations. We eat crocodile skewers, kangaroo fillets, emus on pizza, and assorted other Australian delicacies while here. All in all the food tastes pretty good.