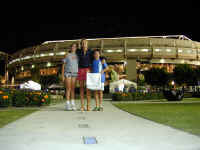 Rod Laver Court at Melbourne Park with Pam, Ian and Aryn at night after the Leyton Hewitt match against Paul Goldstein.

Here is the big jumbo screen where all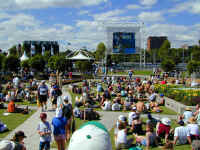 the overflow crowds that don't have tickets to Center Court, or can't fit in the seating from an outer court come to watch the matches as they hear the screams and cheers from the courts around them.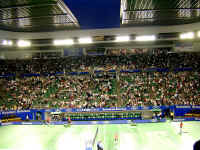 The rain came interrupting play. The roof is slowly closing.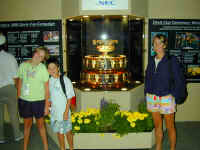 Here it sits -- the Davis Cup. All the Aussies really let you know who has the Cup! I don't think they are going to give it back easily. John McEnroe -- you'd better talk to the American players and get them together to get the cup back!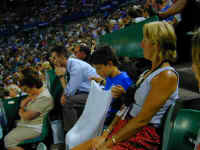 We are at the second night matches and Ian is given Serena Williams towel after her win over the young Australian Player. (The next night match of Serena's against Sabine Appelmans, Ian was given Serena's towel and this time she signed it!)
The next night Ian get Jennifer Capriati's towel. What are we going to do with all these towels. At least Capriati signed hers.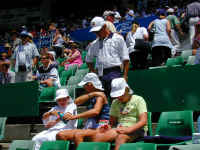 Taking our seats at Rod Laver Center Court. Notice the funny hats made tennis famous by Ivan Lendel. We are all doing the "SLIP, SLOP, SLAP" of Shirt, Sunscreen and Hats.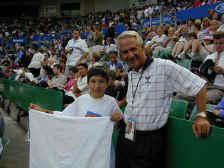 Here is Ian with Martina's towel after her match against Justine Henin. Ian was offered $50.00 on the spot for the towel but wouldn't sell it. Ian has been going to bed at night sleeping holding onto Martina's towel.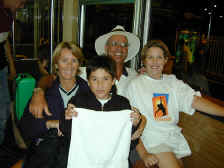 See photo of us on tram -- Ian is holding up Jennifer Capriati's towel.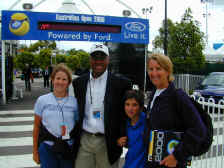 Mal Washington is working for ESPN along with Pam Shriver here. Mal was nice enough to spend some time talking about his recent retirement from the tour and his new plans.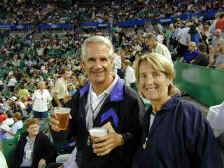 Here again -- We go half way across the world to run into Dave Crook at the Australian Open Center Court. Dave is sitting six rows down from us. Doubles anyone? See Melbourne Page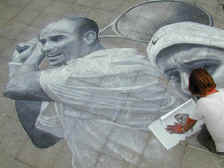 An artist uses chalks to draw Andre and Leyton on the ground next to Nike Shop at the Australian Open.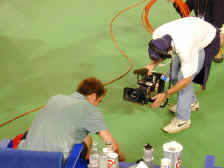 Ian gets another trophy as Magnus Norman throws Ian his sweat band after the quarter final match.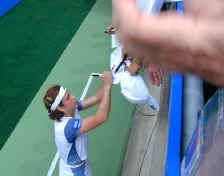 Arantxa signs autographs after her match. Ian and Aryn have their hats down getting them signed.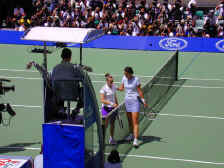 Lindsay Davenport consoles a tearful Martina Hingis after Lindsay crushes Martina in the final. A reliable source states before the match Melanie Molitor, mother of Martina, and Martina had a huge (loud) fight ending with Martina throwing her mother out of the locker room. Melanie was so upset with their doubles finals match, she walked out of the stadium. The reason for the fight is still speculation, but enquiring minds do wonder. The fight was huge!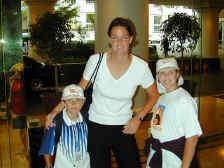 Here is Lindsay Davenport with Ian and Aryn. Linday was nice enough take the time with Ian and Aryn after her tennis victory the day before over Martina Hingis. Lindsay is heading out to airport to catch a United Airlines flight to Tokyo.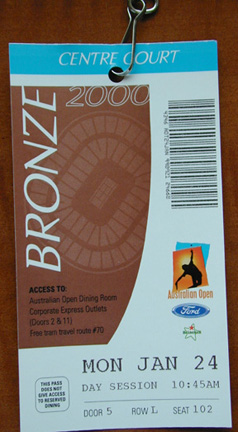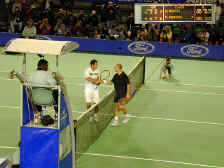 Agassi and Sampras shake hands after their historic match. Agassi pulls out victory two points from defeat 6-4, 3-6, 6-7 (0), 7-6 (5), 6-1. Agassi ,does what Rod Laver last did in 1969, makes it to four Grand Slam finals in a row; French, Wimbledon, U.S. and now Australian winning all of them but Wimbledon.

We were at the Pete Sampras -- Chris Woodruff match when Pam starting looking in the stands for Paul Anacone. Pam then realized that she has a funny connection to the #1 seed, #2 seed and #3 seed in the Men's 2000 Australian Open (Also the #1,#2, and #3 ranked players in the world). It seems Brad Gilbert is Andre Agassi's (#1) coach and grew up playing tennis three days a week with Pam. Pam went off to college to play tennis for Cal Berkeley at the same time Larry Stefanki was playing there. We got to know Larry better through Mark Elliott. Larry is Yevgeny Kafelnikov's (#2) coach. When Pam left Cal and later went on to play for University of Tennessee ,she played there the same time Paul Anacone played there. Pam and Paul used to hit together. Paul is Pete Sampras'(#3) coach. Funny isn't it! Pam laughs saying "What happened to me?"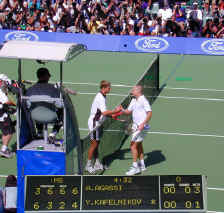 Yevgeny played the first four games brilliantly. Agassi then raised the stakes to a new level. In the end, the immovable object ( Kafelnikov) was moved into submission by "The Rock".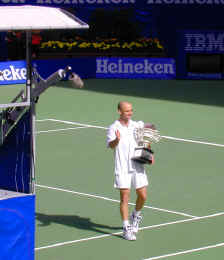 Agassi shows off his Aussie Open trophy to the crowd. Over 510,000 people attended the Australian Open during the fortnight, making it the largest attended sporting event in the history of all sports.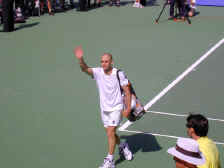 Andre waives his thanks to the record crowd at the Australian Open supporting him during his matches.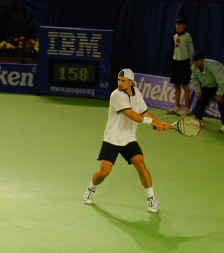 Here is pictured Nicolas Kiefer showing his errant backhand that lead to more than 25 errors in his match against Magnus Norman. Kiefer should have kept attacking but played baseline game too long.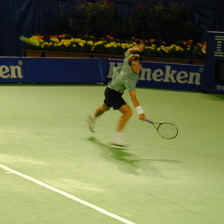 Magnus Norman returns serve against Nicolas Kiefer. Magnus Norman is a force to be contended with on hard courts making to the semi-finals losing to Yefgeny Kafelnikov.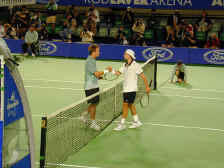 Norman and Kiefer shake after Norman prevails in four close sets. After the match Magnus Norman throws Ian his sweat band.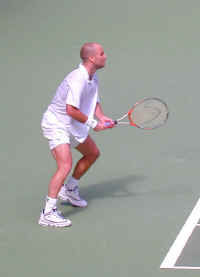 Agassi focuses in on returning serve against Philippoussis. Agassi put on a great display making few errors while fighting through returning serve.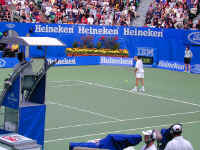 Agassi serves out match point against Philippoussis. Philippoussis just didn't have enough to beat Agassi by serving only 25 aces compared to his previous match serving 42 aces.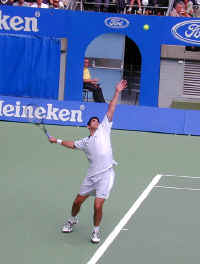 The big serve of Philippoussis was no match for Agassi's return of serve. Mark was forced to play out point after point, forcing him into 55 unforced errors compared to Agassi's 25.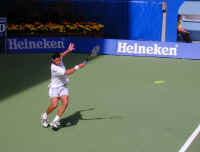 Mark kept going for big inside out forehands. Mark had only 39 winners. Agassi had 27 winners but consistency was his weapon.
Agassi thanks the crowd before leaving from center court.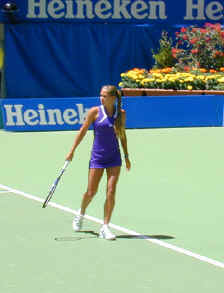 Here is Anna in a nice tight Adidas dress playing against Lindsay. She lost the match but sold tons of dresses for Adidas.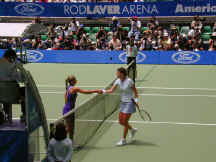 Lindsay and Anna had a much more cordial match and smile to each other after the match.