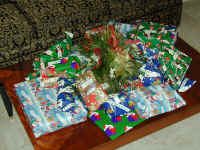 Arrived back on Maui late December 22nd. Looked for a Christmas tree all day on the 23rd only to find there were no trees left for sale. Last trees were sold on December 20th. We went to the florist shop in Napili and ordered a Christmas floral arraignment and made that our centerpiece for the presents.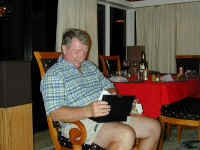 Had Mark Elliott over for Christmas eve dinner. Mark was supposed to be visiting friends on Kauai but his staff decided to stage a sick out. Same thing happened the week before when he was invited to go to Oahu for the junior area training center as a coach. Poor Mark! Today, Christmas, Mark is the only tennis staff member at work.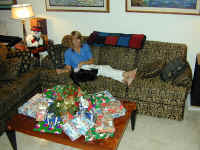 Pam and I made the celebrated Christmas eve spaghetti dinner with olives, mushrooms, apples, pine nuts, and tomatoes along with a chicken.
The house looked wonderful as usual and the evening was a huge success. Today we went out and hit some tennis balls. We will probably go to a movie in the early afternoon and follow it up with a dinner out at Fish and Game.