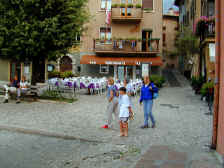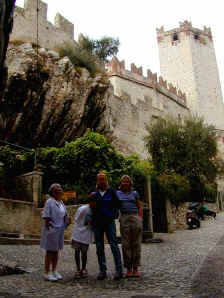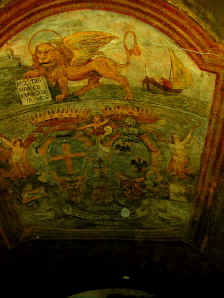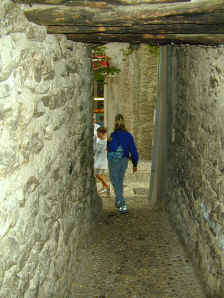 We stopped in at Lake Garda, on our way to Stresa, to visit an old friend of Pam's who lives there. Lake Garda was the retreat home of Mussolini (and was where he ran from to head to the Austria where he was eventually captured and killed at the end of WWII). Madelyn and Ed Murphy of Alameda ( and Pam's first tennis teacher) have a home in Cassone that has a million dollar view. Actually the postcards sold of Malcesine and Cassone come from pictures on their porch. Madelyn's family come from Cassone. Lake Garda is the windsurfing capital of Europe. It never snows at lake level but there are trams to the top of the mountain for winter skiing. Lake Garda was the principal inland port town for all goods headed for Venice and the Mediterranean Sea. A large and perfectly preserved castle still sits on the shoreline of Malcesine. On the ceiling of the entry to the city the port passage ( built in 1200 AD) ceiling bears timeless witness to the power and magnificence of Venice. Anytime one sees the crest of the "Lion with Wings" one knows Venice controlled this region.

The town has become a mecca for Italians and other Europeans looking for a break from the hot summers and cold winters. Malcesine hosts these travelers in spotless streets and shops that all summer cater to the sailors, yachtsman, windsurfers and swimmers while in the winter it's a ski town. The water is amazingly warm all year long.

When the railroads were built through the region back in the early 1900's the port city died. No work existed so many of the men and women moved to Massachusetts in the U.S. to start new lives. Madelyn's family moved but the mother of the sons stayed in Cassone. Houses here are hard to find as they are passed down from generation to generation. Malcesine is like no other city we have seen in Italy. The town looks as though is new in the respect that the building, even from 300 AD on look as though they were built yesterday. A home on the lake which Madelyn did not buy was built in 1200. She said it needed too many upgrades for her California needs. Cassone also produces the finest olive oil in the world - say all Italians. It is also the region which produces the boldest burgundy grapes that produce the finest of the Italian wines. They say it is due to the climate and the soil unique to Lake Garda. I think it is the tradition.