Pam went to Pensacola. Pam and doubles partner, Ann Pellow, WON the finals of the feed-in after losing in the main draw to the #2 seeds 6-4, 7-5. Pam lost in the semi-final round of the feed-in to the #7 seed after playing and winning her earlier singles and doubles match. Pam finished the tournament #7 in singles and Pam and Ann #5 in doubles.
GOOD JOB PAM AND ANN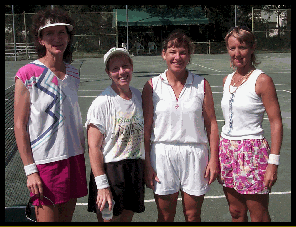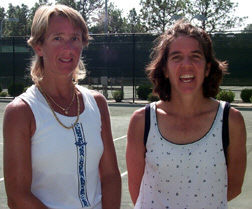 pictured on left (l-r) Mary Motolla,Marsha Wollack, Carolyn Nichols and Pam.
Pictured on right is Pam and Ann Pellow
SEE THE SINGLES FEED IN DRAW FROM NATIONAL CLAY COURTS
SEE THE DOUBLES FEED IN DRAW FROM NATIONAL CLAY COURTS