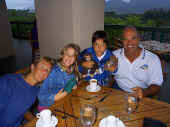 Sometimes we are traveling from tennis tournament to tennis tournament in Hawaii. Here we are pictured having breakfast at the beautiful Hanalei Resort on Kauai.
Go to Kapalua Resort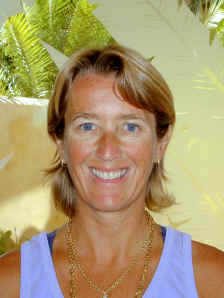 Sometimes just kicking back at home in Kahana is all that is really needed.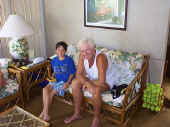 Here Ian and Floyd Barnes share some stories about tennis at Floyd and Georgia's home in Kona, Hawaii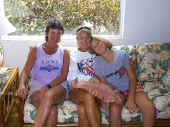 Georgia, Pam and Aryn relax on the couch while I take all the pictures.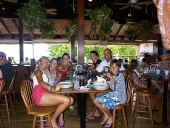 Here we are back in Lahaina having food where the kids enjoy the most; pizza at BJ's. Still the fun of Hawaii is the year round tennis, golf, scuba, beaching, surfing and just having a good time.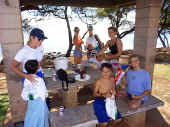 Here we are barbequing at Canoe Beach with the Pasqual family. Canoe beach in Kaanapali holds outrigger canoe races all summer long. Sitting close by at the picnic tables you can watch the event, swim, fish and just "talk story".
Kapalua is constantly having concerts. On November 14, 1999 Michael McDonald and Christopher Cross were here performing for a small group. What a great concert!